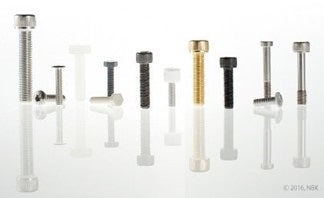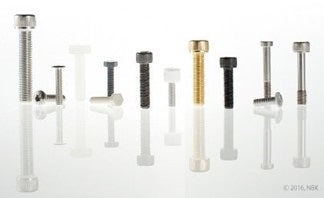 Special Screw
NBK is a Japanese company that has existed for almost 500 years. This company produces special screws with different properties with high level.
The nature of the NBK company is applied in: Technical capabilities, wide range of application, technology combination.
 Technical capabilities - high quality and high precision technology cultivated in the fields of semiconductors and LCD.
Vacuum applications screws (Ventilation hole).
Plastic screws (VESPEL, PEEK).
Special material screws with chemical resistance.
Molybdenum screws with heat resistance.
Before packing, NBK screw getting oil and particle removal in cleanroom wash.
Wide range of application - High technical capabilities allow problem solving in various fields.
Manufacture screws with low profile and small head.
Eccentric lock washer.
Captive screws.
Anti-theft nut – simply install by using standard tools but can't be removed by standard tools.
Technology combination – technologies are combined to propose the most suitable screws.
Chemicals resistant screws with low-profile screw.
Captive screws with surface hardening treatment.
For more information: 
https://www.nbk1560.com/en/resources/specialscrew/video/013/