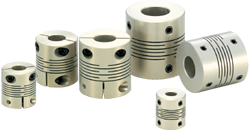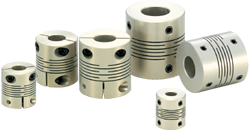 Slit Type Coupling
Slit Type Coupling is a one-piece metallic spring coupling
Extremely high torsional stiffness, low inertia and excellent response
Manufactured from extra super duralumin (A7075) - the highest strength aluminum alloy
Absorption of parallel, angular misalignments and shaft endplay by spring action
Identical clockwise and counter-clockwise rotational characteristics
Finished products featuring two different end bore diameters available in stock.
For FPD equipment, semiconductor equipment, or equipment to be used in environments requiring clean, heat resistant, or chemical resistant components, take a look at our MSXP coupling constructed of PEEKR* .
*PEEK® is a registered trademark of Victrex plc.
More information about the manufacturer >>  KHK Slit type Coupling