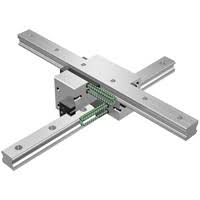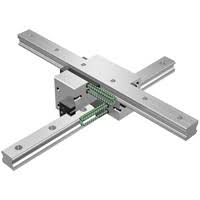 THK
Crossed LM Guide
This unique series is an integral type of two LM guides, close to SHS/HSR models, which are used in combinational-cross structure.  This design has a proven track record and high reliability.
In addition, this product series supports the following features:
Simplifying and downsizing
Since an orthogonal LM system can be achieved with this type of product alone, a conventionally required saddle is no longer necessary, the structure for X-Y motion can be simplified and the whole system can be downsized.
4-way Equal Load
Each row of balls is placed at a contact angle of 45 so that the rated loads applied to the LM block are uniform in the four directions (radial, reverse radial and lateral directions), enabling the LM Guide to be used in all orientations and in extensive applications.
High Rigidity
Since balls are arranged in four rows in a well-balanced manner, this model is stiff against a moment, and smooth straight motion is ensured even a preload is applied to increase the rigidity.
Since the rigidity of the LM block is higher than that of a combination of two LM blocks of the conventional type secured together back-to-back with bolts, this model is optimal for building an X-Y table that requires a high rigidity.
Download PDF catalogs: