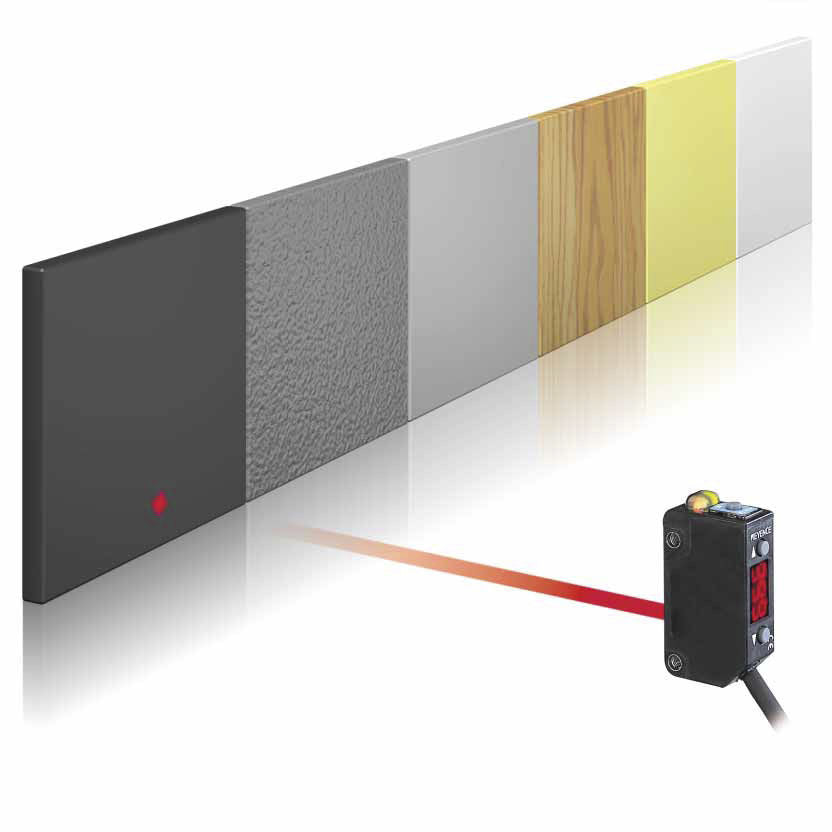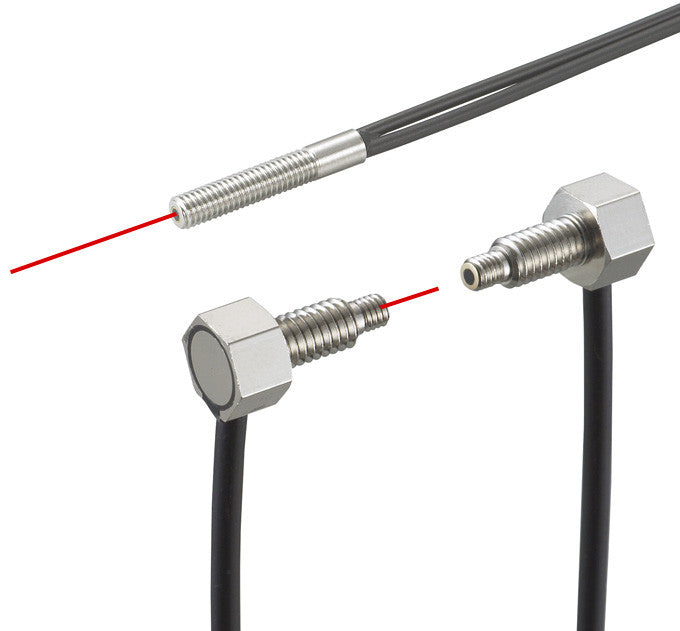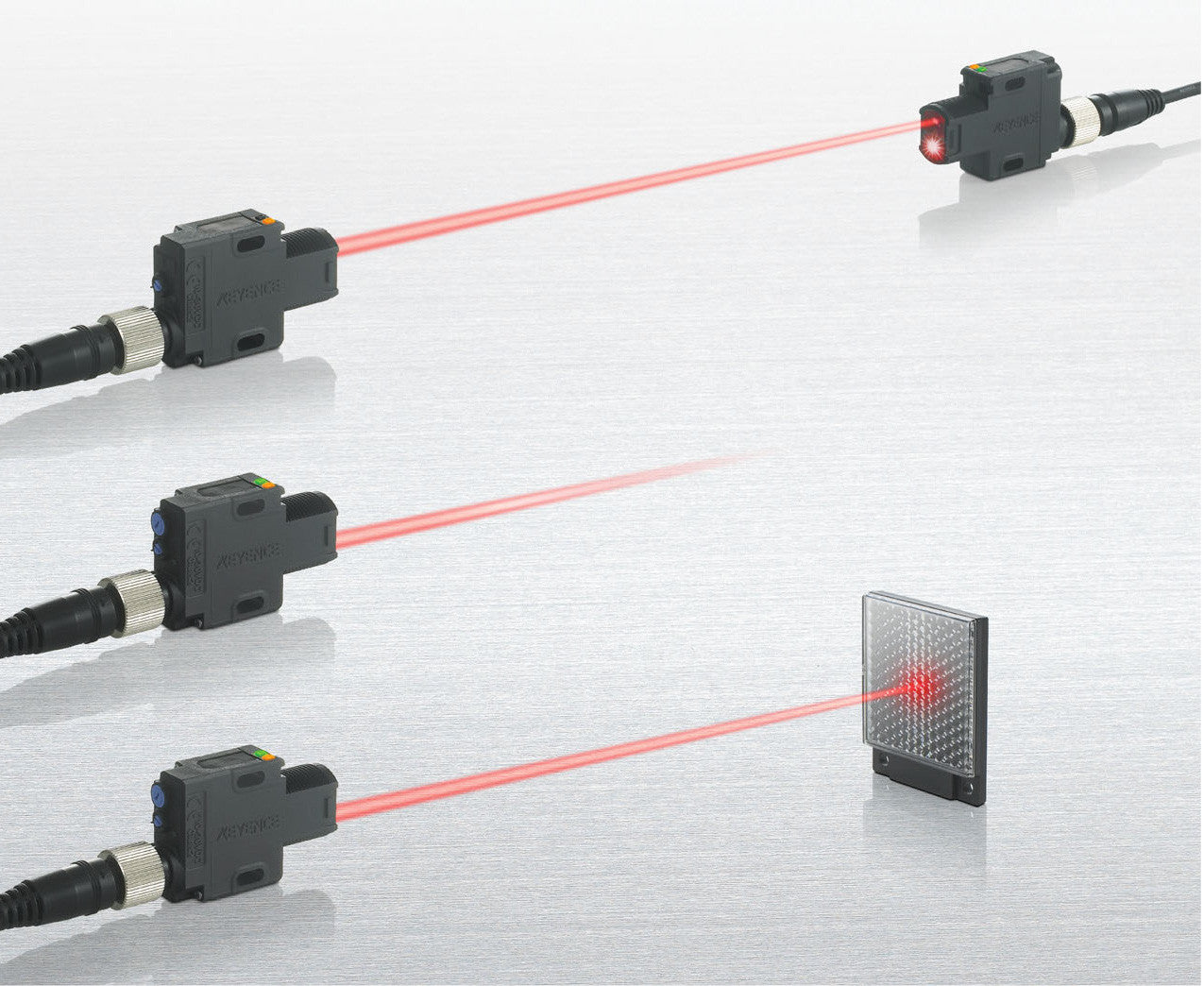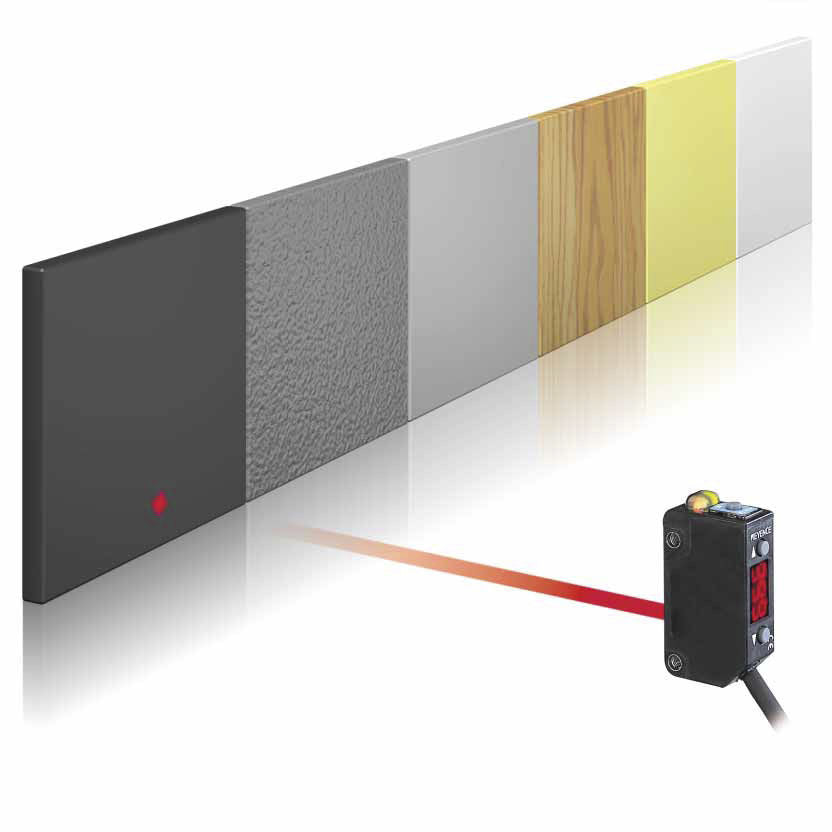 Keyence
Photoelectric Sensors
KEYENCE provides Photoelectric Sensors, or photo eyes, to detect presence of an object using a LED light source. It is the most common use for non-contact sensing. The diverse product range of Sensors provides a full solution for a wide range of applications. The principle of operation of the sensor is a modulated light transmitter, visible-light, laser or infrared, and a photoelectric receiver, measuring the amount of received light, synchronized with the modulation of the transmitter.
The main types of photo sensors are: 
Through beam: Transmitter opposed to Receiver. The detected object is disturbing the light to the receiver.


Diffuse Reflective: Proximity-sensing. The sensor transmits and receives from the same direction. The detected object reflects the diffused light back to the sensor.
Another type of sensor related to diffuse reflective sensors is Distance-Settable Sensors, where the receiver is CCD, CMOS or PSD which are sensitive to distance or position. Another name for this kind of sensor is Background Suppression Sensor.


Retro-Reflective: Using a dedicated reflector. The reflector is polarizing the light, returning the polarized light back to the receiver. The receiver contains a polarizer, measuring only polarized light. The result is that the measured light is only the light coming from the reflector. An object will be detected when covering some on the light. This sensor will work similar to through-beam sensor, connecting electrical interface on one side only. Thus, the detecting distance is smaller than though-beam type.


Color Identification:

The photoelectric sensor uses multiple wavelengths, or a white light transmitted to the object. The receiver measures three channels for three colors, usually

Red

,

Green

and

Blue

. According to the amount of light of each channel, the object's color is determined by the Color Sensor. This method is also very useful to detect contrast and it would sometimes be referred as Contrast Sensor.
All the different types of photo sensors above can either have built-in or separate amplifiers and the light can be transmitted directly from the sensor's housing, or through Fiber-Optic Units. Using Unit with photoelectric amplifier sensor is often referred as Fiber Sensor or Fiberoptic Sensor.

Keyence photoelectric sensors excels in high speed fast response time, high resolution, stable detection and best in its' class reliability and durability.