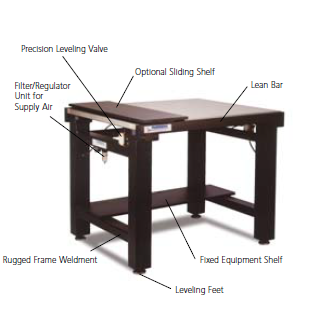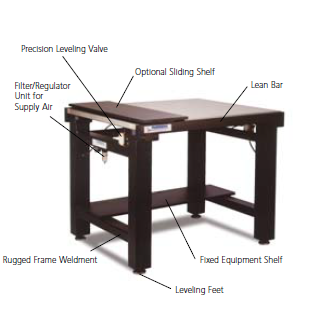 Isolation Tables
Fabreeka Isolation tables provide self-leveling work surface and low frequency isolation (1.5 Hz) needed in laboratories, cleanrooms and inspection areas where footfall or structural vibration can decrease or harm the performance, reliability and accuracy of the application.
The work surface of the table is isolated by four pneumatic isolators which have a vertical and horizontal natural frequency of 1.5 Hz. Leveling valves provide accurate, repeatable leveling surface.
The tables require a continuous air supply of no more than 7 Bar and designed to support
payloads of 100-1200 kg.
A range of sizes and work-surface options are available.
PDF Catalog: Fabreeka - Isolation Tables.pdf