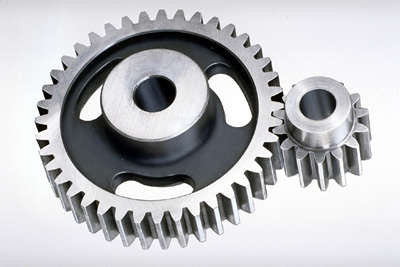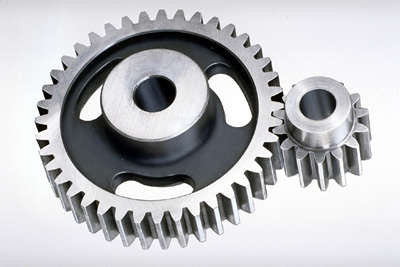 Spur Gears
KHK, a manufacturer based in Japan, offers a diverse range of spur gears that are worth exploring and becoming familiar with. While these gears are the most common and straightforward type, it's important to note that each gear has unique engineering characteristics that should be considered before selecting.
Gears are generally inexpensive to manufacture and are widely used in various industrial transmissions. They can be crafted from a broad selection of materials including plastic, non-ferrous metals, copper, aluminum, steel, iron, stainless steel, and more.
Moreover, spur gears can be customized to suit various connection needs, including full keyway, connection to a flange, clamp, F-loc, setscrew, and more.
Types of Spur Gears:
Ground Spur Gears:
Ground teeth gears are designed to minimize the effects of backlash, and their grinding process not only enhances the precision of the gear teeth but also improves their surface quality. By reducing noise and vibration, grinding also increases their ability to transmit torque. These gears are ideal for applications that require high rotational speeds and utmost precision.
Spur Pinion Shafts:
Spur pinion shafts are a compact solution that can transmit high levels of force at high speeds. They are easy to manufacture and provide a high level of accuracy and surface finish. These gears are commonly used in the automotive, aerospace, robotics, and industrial machinery industries. Due to their precision and durability, they are preferred in applications that require reliable and efficient power transmission. Furthermore, their compact design makes them ideal for applications with limited space constraints.
Injection Molded Spur Gears
Injection Molded Spur Gears are ideal when mass production and cost reduction are required, and they can be manufactured with high precision. They are commonly used in the food and pharmaceutical industries, as well as in the automotive and aerospace industries.
Thin Spur Gear
Thin Spur Gear are specifically designed for compact machines, and are cost-effective to produce due to their simple structure. The thickness of the gear can be tailored to suit the specific application and limitations.
Spur Gears with Built-In Clamps
The Clump locking system enables a safe and reliable hub connection. The locking mechanism is easy to assemble and eliminates the need for setscrew. This locking system improves the non-slip between the hub and shaft and reduces any mismatch between them.
F-loc Hub Spur Gear
Spur Gear with F-loc locking enables improved concentration and locking strength, achieved through the tightening of two setscrews. The connection is relatively flexible and can be adjusted to the shaft as required. This connection is highly reliable and precise.
Plastic Spur Gears with Steel Core
Plastic gears with a steel core are designed primarily to reduce weight while maintaining the strength and corrosion resistance of the plastic gears with a steel core. Additionally, these gears operate quietly and can be produced inexpensively, making them a popular choice in medical industries. However, they are suited for lower torque and rotational speeds since power transmission occurs through the plastic teeth.
The engineers at Medital and the manufacturer's engineers would be happy to provide consultation and characterization for any technical requirement relevant to the various spur gears mentioned above. The manufacturer produces gears from various modules ranging from 0.5 to module 12, suitable for all types of commercial and military applications.
More information about the manufacturer >>  KHK Spur gears