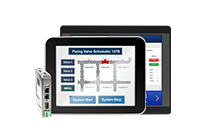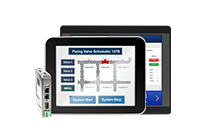 HMI
Maple Systems offer 3 levels of HMI solutions to meet customer's demands. All 3 levels are state-of-the-art solutions with very attractive price tags:
Smart HMI -  cMT -  Control and monitor, from the plant floor and beyond. Our innovative cMT solutions make it easy to monitor/control your industrial process from remote devices such as PCs, smart phones, and tablets. Maple's cMT series offers two models that maximize your options when selecting the correct HMIs for your system. Maple's cMT series includes cMT Server software which communicates to the cMT Viewer application that resides on a remote PC, mobile phone, or smart tablet. This simple innovation makes it much easier to monitor your control system from a remote device.
Link: https://www.maplesystems.com/products/cmt/index_dk.htm
Advanced HMI - Maple Systems Advanced HMI series offers the BEST value in today's Human Machine Interface marketplace. Enjoy enhanced data handling features, trusted performance, affordable pricing, and unparalleled support. Our HMI solutions are used in packaging, oil and gas, food and beverage, medical, health and beauty, design, and more. How can we help you meet your control needs?
Link: https://www.maplesystems.com/products/graphic-hmi/index_dk.htm
Basic HMI - Maple Systems Basic HMI (Human Machine Interface) series offers a great solution for organizations focused on cost-driven and OEM-related projects. Maple Basic HMIs provide standard HMI features and solid performance at the lowest price. You'll also receive Maple's outstanding and trusted technical support. How can we help you meet your budget needs?
Link: https://www.maplesystems.com/products/basic-hmi/overview/