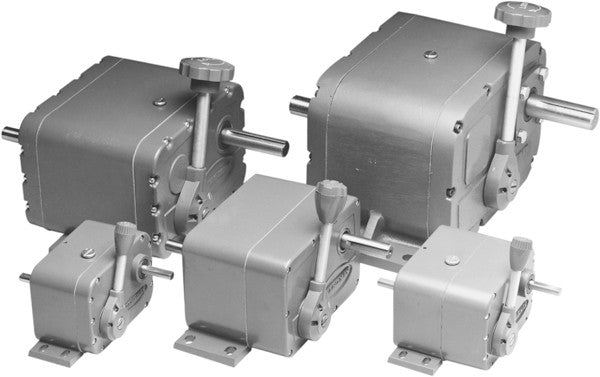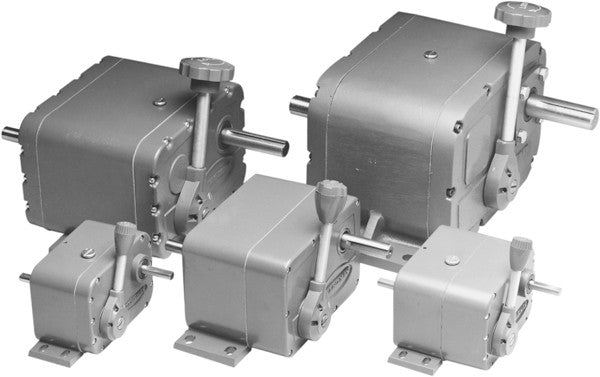 Zero Max
Adjustable Speed Drives
For lower speed/higher torque applications, some Zero-Max drives are available with our right angle gearbox. Some Zero-Max drives may be purchased with standard electric motors or they may be connected to any rotating power source up to 2000 RPM. Adjustable speed drive speed adjustments are easily made by moving a lever control through an arc or turning the hand-wheel of a screw type control. In either case, easy and precise speed control settings are possible with Zero-Max adjustable speed drives - also referred to interchangeably as variable speed drives.
Externally, the Adjustable Speed Drive consists of a rugged, sealed cast case, an input shaft, output shaft and adjustable speed control. Speed of the output shaft is regulated precisely and easily through a control lever which includes a convenient locking mechanism or a screw control to hold speed at a desired speed setting. Adjustable speed drive models are available with output in clockwise or counter-clockwise rotation to meet individual speed control requirements. Two models are equipped with a reversing lever that permits clockwise, neutral and counter-clockwise operation.
The general principle of operation of Adjustable Speed Drives gives infinitely variable and adjustable speed by changing the distance that four or more one-way clutches rotate the output shaft when they move back and forth successively.